Security and Safety Window Films
This range of window films have both improved and added various thickness's over the years for a variety of specialist application.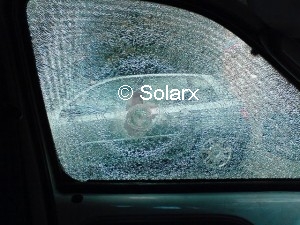 In the early 70's the main film available was a 2 thou (Mil) thickness clear film. It was during the onset of the troubles in Northern Ireland when the manufacturers had to look into improving the range of films to give better protection. When the troubles escalated to the UK mainland a 4 thou thick clear security film had been developed to protect people and buildings against terrorist attack. These films were installed to the internal face of the glass to reduce the risk of injury to staff and protection of vital equipment within the building.
The main problem was that due to the urgency to give greater protection, that the manufactures produced very poor quality window film. The clarity and the distortion through the early films were very poor. This was due to getting the increased thickness of the polyester base film with the correct adhesive combination right. A hard adhesive gave greater clarity but poor adhesion to the base film in the event of explosive impact. While a softer adhesive gave greater adhesion to the base film but the clarity through the clear film was too distorted. It took some time to find the correct combination where the balance of the soft and hard adhesive was acceptable
That was way back in the 70's. Now we offer the following safety/security films:-clear 4thou, 7thou, 8thou, 11thou, 14thou, 16thou, 18thou and 21thou.
We have the most complete product range in the industry ranging from 4mil to 21mil film thickness. Our products offer superior clarity. We have the most advanced adhesion formulation in the window film industry. Superior impact resistance backed by Certified Standards. Within the UK and Europe our films comply with the latest stringent tests and certification. The 4 thou European standard is EN12600 2b2 and for 7 thou and above EN 12600 1b1 and our films comply with these standards.
Our films have been tested for small impact tests, large missiles impact & cyclic wind pressure tests, GSA explosive test and flame spread and smoke development test. All certification is available on request.
A number of the above security films come with solar control combination for applications where you have a security requirement but also a heat and glare problem as well.
All our security/safety films have 99.9% Ultra-Violet protection even though they are clear. They all give the same protection against UV.
A high proportion of our contracts are upgrading normal glass to required British safety glass standards. All new builds comply with the new building regulations however many existing buildings still have thinner or non-safety glass in potentially dangerous areas such as entrance doors etc. It is the responsibility of the building owner to carry out a glass survey to identify any hazardous glass areas and to upgrade as required.
Below is an indication as to the Building Regulations for glass areas :-
Requirement for safety glazing
Any glass, plastics or safety films fitted in 'critical locations' must comply with EN 12600, i.e. it must be safety glazing.
Diagram 1 below details 'critical locations' in internal and external walls as defined by BS 6262 and Section N1 of Approved Document N of the Building Regulations.

All glazing in shaded areas has to be safety glazing to BS 6206.
Minimum requirements for safety glazing in low risk areas
All glazing in low risk areas shall comply with the minimum requirements of BS 6262 and Section N1 of Approved Document N see Diagram 1 above.
Requirements for safety glazing in areas of 'special risk'
In all buildings, or parts of buildings, where the planned activity or use generates a 'special risk' all glazing, regardless of position or height as defined by BS 6262 and Section N1 of Approved Document N, shall be deemed to be 'critical locations' and must comply with the glazing requirements set out in BS 6206.
Glazed areas deemed to be 'special risk'
All glazing in special schools and pupil referral units.
All glazing in gymnasiums, sports halls or other areas where sports activities or ball games are likely to played.
All glazing on unprotected elevations facing playgrounds/playingfields.
All glazing below 800mm from floor level (Schools and buildings used by children).
All glazing in staircases below 800mm from the treads and landings. (Schools and buildings used by children).
Over time, it is possible that the use of a particular building or areas change and may become areas of 'special risk'. It is the duty of all Premises Managers to undertake regular risk assessments of all areas to check that the standard of safety glazing reflects the use of the building. These standards are also based on reasonable standards of behaviour by the building users.
Standard of safety glazing
Safety Film to Single Glazing Including the Re-Application of Safety Film
All glazing in the 'critical locations' and areas of 'special risk' detailed above and not marked as have been filmed or being toughened or laminated glass or other such material deemed to comply with the requirements of BS 6206 shall be treated with safety film to comply with BS 6206.
All safety film shall be fitted strictly in accordance with the manufacturers instructions to ensure compliance with BS 6262. The film shall be free of all dirt particles, fingerprints, scores and scratches, creases, air bubbles and the edges shall be free of lifting. The edge gap shall be more than 5mm. All treated panes shall be suitably marked in accordance with BS 6206.
Replacement of Existing Single Glazing Including Where Already Filmed
All replacement glass shall be minimum 6.4mm thick Class B laminated safety glass to BS 6206:1981. For example, Pilkington laminated safety glass. All panes shall be suitably marked in accordance with BS 6206.
Replacement Glazing to Existing Fire Doors and Fire Resisting Screens and Partitions
All replacement glass shall be minimum 6mm thick fire resisting safety glass to BS 476: Part 22: 1987 and BS 6206: 1981. For example, Pilkington Pyroshield safety glass (Georgian Wired). All panes shall be suitably marked in accordance with BS 6206.
New and replacement double glazed window units
All replacement and new double glazed window units shall comprise laminated safety glass to outer pane and laminated safety glass with Low Emissivity (Low E) coating to the inner pane. For example Pilkington 'K' glass. All panes shall be suitably marked in accordance with BS 6206.
Please Note that any reference to BS 6206 is now up-graded by EN 12600 within the UK and European safety glass standards.
Some of our thinner safety films are single ply in make-up. The thicker materials are double and in some cases triple laminationin make-up.
Combined solar/safety/security films can block up to 66% of the sun's energy entering through your windows and save on your air conditioning costs as well as providing a more comfortable and resting working environment. Choose from our range of combined films to satisfy your particular needs.
Our films are used wherever there is a specific danger of either potential breakage of glass or where added security is required to reduce the risk of break-in.
We have carried out many installations within food processing plants where if for any reason the glass gets broken either accidentally of through deliberate acts of vandalism. Production has to be halted and in some instances the whole manufactured products have had to be destroyed in case of glass contamination within the products. With the application of safety/security film the risk is minimalized as the films holds together the shards and splinters of glass on the film.
Any vehicle, within the factory for example a fork lift truck, that has glass in the cab within a food processing plant,it is advisable to have the glass treated with an anti-bandit film. Although the glass maybe laminated there is a risk of glass splinters entering the processing plant ifthe glassbreaks.There is a risk of glass splinters contamination entering the food processing area. See our testimonial relating to this.
Anti-bandit film is used on the drivers and front passengers windows to give greater protection. The most vulnerable windows are the front side windows due to the glass being toughened. Majority of vehicle break-ins occur on these windows. See photo of a front passenger window when an attempt was made to break-in. Entry to the vehicle was halted with the use of this film.
Within the home or office glass is the most vulnerable place of entry into the building. Patio doors are an example. How many times have you heard vandals have broken in through the patio door? Protect all areas with security/anti-bandit film applied to your glass.
What we all take for granted is we are surrounded by glass everywhere we go all day. Whether at home in the car at work or out shopping. Glass surrounds us. In its normal state it is fine but when broken it can cause some very serious injuries and in some cases it has caused fatalities. Security/safety films provide greater peace of mind for protection of both personnel and property.