Glass Manifestation and Glass Designs
The building regulation states that glass whether in entrance doors, side panels, office partitioning, need to be clearly marked so it is visible from both inside and outside a public or private building. A brief description of the regulation is given below.
On May 1st 2004 a new regulation Document M – Access to and Use of Buildings (2004 edition) was issued. This refers to critical locations in new buildings and refurbishments of existing buildings. From this date it is a duty of care that states the following:
Glass entrance doors and glazed screens will satisfy Requirement M if:
They are clearly defined with manifestation on the glass at two levels, 850 to 1000mm and 1400 and 1600mm above the floor, contrasting visually with the background seen through the glass (both sides from inside and outside) in all lighting conditions.
Glass Manifestation and Glass Designs take the form of a logo or sign at least 150mm high (repeated on glazed screens) or a decorative feature such as broken lines or continuous bands, at least 50mm high.
Many companies take this opportunity to have a logo or some form of design within glass. We can produce any digital design incorporated within the film at a very reasonable cost.
If you are looking to comply with the regulation at a more economical costing you can see our range of standard design films which are very attractive and come at a muchlower cost.
If you require a digital design onto an optically clear film we can produce it to your personal choice. Whether it be a logo or a printed graphic, all we require is the art work in an acceptable format so we can print to your exact requirement.
For those needing to indicate and highlight glass is there.A basic format of circles or squares of 50mm at 100mm spacing on the 2 regulatory heights is all that is required. So long as you have indicated and made the glass visible so someone can see that there is glass there, this reduces the risk of people walking into glass and you have complied with the regulations. If in doubt contact your local building inspector who will explain it in greater detail.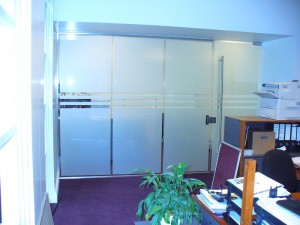 We can provide any printed image onto a clear liner for application onto glass. Whether an entrance area, shop window or office in fact anywhere you have glass an image can be displayed. Images can be installed to either the inside or outside of the glass. We have specially UV stabilised films for external use. If you require a company name, address details or any written details we can provide a logo, just contact us and we will be pleased to help in any way.
Our standard glass decorative design films come in no fewer than 38 standards designs and colours.
We offer 4 specialist film illusions of flower boxes for your windows. We have Red Poppies, Geraniums, Pansies and Roses. Any of which will add a bit of colour to your windows.
We have 4 stained glass effect films.
We have 3 opaque coloured films, white, black and grey.
In our transparent films we have 16 colours to choose from. If you want to add a bit of colour to your life why not consider the application of one or more of these very attractive transparent films. Colours available are Fuschia, Prune, Black, Brown, Pink, Violet, Ocean Blue, Azure Blue, Turquoise Blue, Mint Green, Spring Green, Yellow, Orange, Raspberry, Vermillion Red and Lily.