DermaGard UV Protection
DermaGard UV Protection
A specially developed clear Ultra-Violet filtering film that cuts out harmful UV whilst allowing visible light to pass unhindered. DermaGard is a technically advanced, clear polyester coating which is applied to existing glass. It keeps out almost all the Ultra-Violet light, while allowing daylight and clear vision through the glass – making life normal for the whole family. It goes on working day in day out, and its scratch resistant coating ensures it is easily cleaned and needs no maintenance. The film can also be applied to the family car for even more freedom, and is being installed in playgroups, schools, dermatology clinics…WHEREVER THERE IS GLASS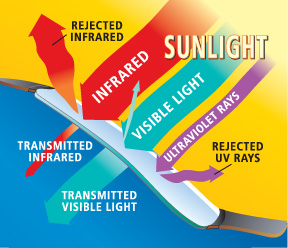 UV Sensitivity conditions
Worldwide, there are millions of people who suffer from sensitivity to Ultra-Violet light to some degree, and many for whom exposure to UV is, ultimately, life-threatening. The distressing symptoms range from inconvenient and painful prickly-heat type reactions to the potentially life-threatening conditions which affect the sufferers of the more severe, but much rarer, groups of diseases such as xeroderma pigmentosum. For these sufferers, exposure to UV can affect the skin, the nervous system and eyes, and without constant monitoring can lead to cancers. Many of these conditions are genetic, and therefore most likely to affect children, but in some cases the effects can be delayed until adulthood.
For most of these sufferers, and their families, life has to be lived away from sunlight, often behind closed curtains, and venturing outdoors is only to be done at night, or muffled in protective clothing.
Now many sufferers are finding life a little brighter, as they can open the curtains and enjoy the sunshine. In most instances, the film can be applied within a day, to all the windows and other glass panels, without disruption or mess.
It is inexpensive, and help with the cost is often available through local Social Services or support organisations.
What Our Customers Say!
Fantastic! On 20th December having been diagnosed with UV sensitivity. I contacted Matthew who arranged for Gareth to come and apply Dermagard UV film to all the house windows ,all work completed by Christmas Eve! Garreth worked quickly and efficiently, leaving everywhere tidy and even advised on light bulbs that do not give off UV. This week I have had my car windows UV filmed and my life is now much improved and safe Thank you, I have no hesitation in recommending Solarx